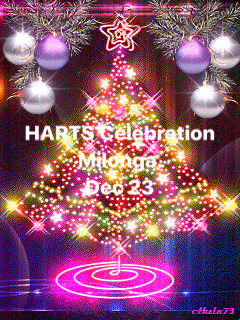 The HARTS  HOLIDAY MILONGA DEC 23  is the signature last Milonga of 2017 .
2017 may have been a challenging year for some of us. Regardless of whether we fee
l the desire or ardor to celebrate as we approach the end of this year, we should gather and dance in honor of the community and connections that we have built over the years
Join us for an evening of warm embrace during this cold December month.
We are delighted to have Infinitango , our favorite home Tango Band  to ignite the evening with new tango tunes and delightful tandas with our friends .
As always, we welcome all including the uninitiated, the beginners, new old friends, extended family, sweet savory snacks, holiday  and delicious beverages.
We can't wait!
Every HARTS Fourth Saturday Milonga features great music spun by HARTS DJ's Muna,  delicious Milonga refreshments home made by HARTS community  and great atmosphere.
The HARTS Fourth Saturday Milonga is BYOB
Event Overview
HARTS Fourth Saturday Milonga
Fourth Saturday monthly
8pm -9pm Pre Milonga Free class with Muna swairjo  – Hot Barridas  – they are so much fun …
9pm to 2am –  milonga with live music
Cost  $20pp, special event price , or $15 if you bring a dish to share.  $10 for full-time students with valid ID
Doors open 8:00pm
Please pay Muna upon arrival
No bills over $50 accepted. Exact change appreciated.
Please check the home page card Delays and Cancellations in case this event needs to be cancelled or rescheduled due to foul weather or other unforeseen circumstances.
This event will be held at the home of the Hartford Argentine Tango Society:
The Garage Dance Studio & Gallery
1385 East Street
New Britain, CT 06053
(860) 505-8194
garagedancestudio.com
Please refer to the Hartford Argentine Tango Society website for a complete listing of all HARTS events. www.hartstango.net
All HARTS events are listed in tangomango.org. Search for Connecticut, Hartford County
Follow HARTS on Social Media Facebook and Twitter and Instagram